Archives
End Date
10 December 2021
Poetry Lightbox Series - an excerpt from 'Aro Valley'
Main Image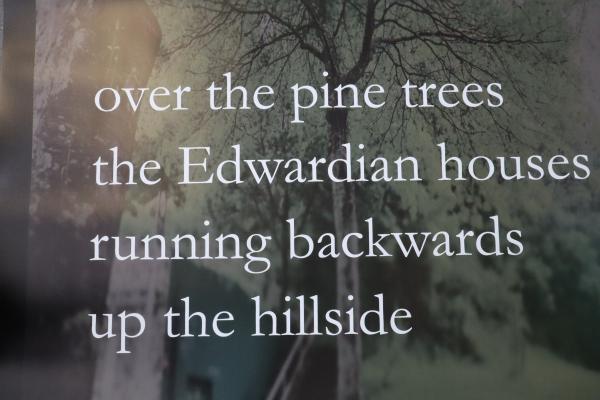 Gallery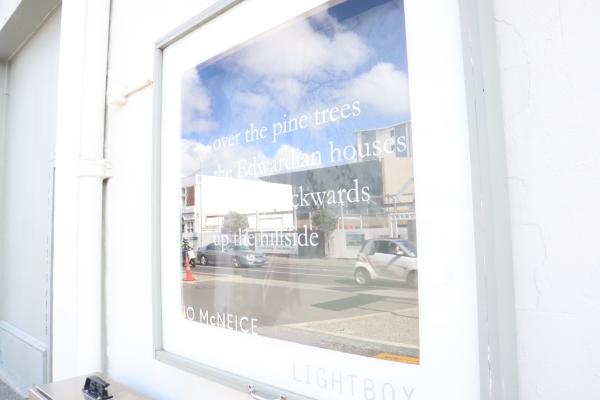 Body
The words are growing in the field, and they hover above the page. They're like flowers, and I pick the ones I like   -  Mary Ruefle
In the new exhibition in the ligtbox, Wellington poet Sarah Scott has gathered a showcase of fragments of poems, prose, erasure and collage from local writers, responding to the natural environment, in and around Te Whanganui-a-Tara, presented in various visual formats.
The idea that we can combine poetry and art has its roots in antiquity. It was the Greek poet Simonides of Keos who first said 'poetry is a speaking picture, while painting is silent poetry.' By presenting written work in a visual form, it becomes both a visual and a textual experience. Both elements unsettle the text's usual purpose, making it delightfully unclear whether the page is meant for reading, viewing, or something else.
One of the inspirations behind the idea for this project is American poet Mary Ruefle's erasure poetry, which she makes into works of art by painting out the words she doesn't want to use with white twink, leaving only beautiful, ethereal fragments. She says, 'all the words rise up and they hover a quarter-inch above the page. It's like a field, and they're hovering. I don't actually read the page. I read the words, which is different.'
It is this difference that is illuminated and showcased in this project. Words as beautiful objects, a collection of words as some small, lovely moment. Words as spaces of reflection and hope and connectivity in our amazingly creative and wild city.
The first writer to be showcased is Jo McNeice. Jo is a past student of the IIML in wellington who is currently working as a library assistant. She explores the links between photography and poetry in her practice by writing ekphrastic poetry using photography as a prompt, and in this work, superimposing an excerpt from her wonderful poem Aro Valley on a detail of a photograph taken in the area.
She says, my practice is haphazard, higgedly-piggedly, random, like my life, a bit hit-and-miss really. I go through phases of producing what could be called poetry, some of which is readable, perhaps even coherent. This poem came tumbling out of my head almost writing itself. Though I never lived in Aro Valley, I spent a lot of years walking through it, almost daily, ostensibly on the way to somewhere else, but often, really, Aro Valley was my destination. Taking a wander up Holloway Road, eating chips in the park, renting first videos (yes videos!), then DVD's from Aro Video. Even though I no longer live in Wellington, I still love Aro Valley, it seems to have retained its character over the past 25 years, remarkable! There is something special about it, which I hope my poem captured.
We look to the future with progressive ideals - Gitas' Hand
Artist
Anjuli Selvadurai - Women in Photography NZ & AU
Main Image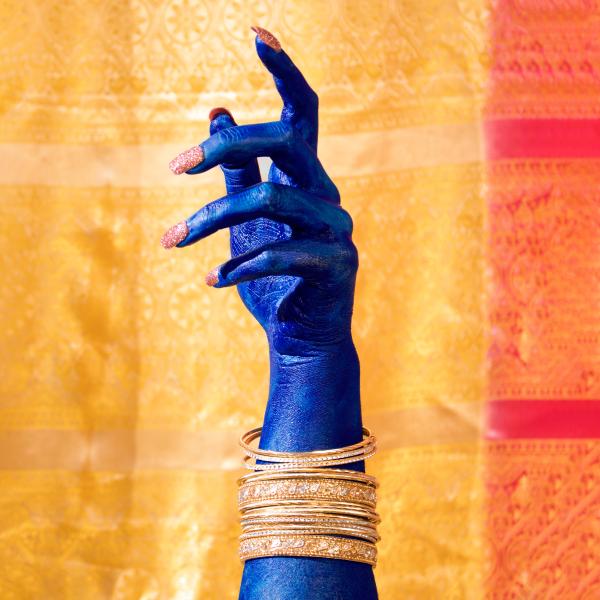 Gallery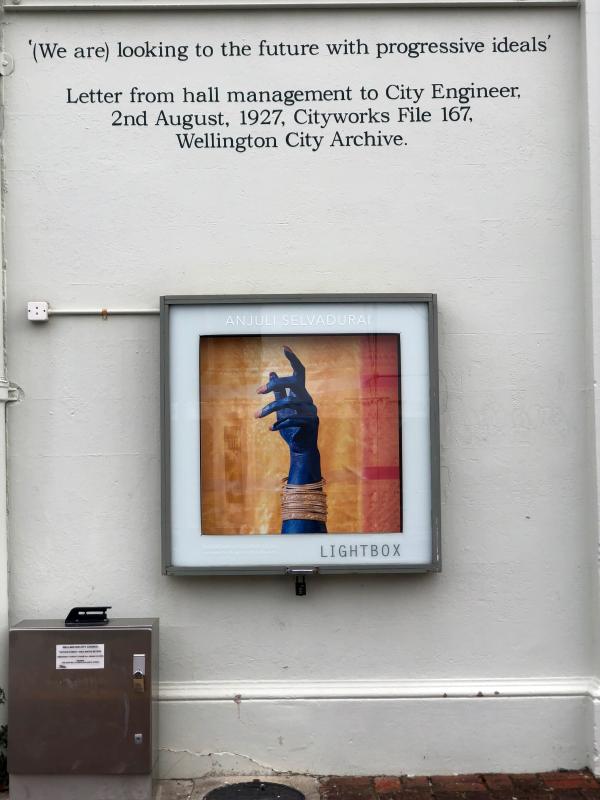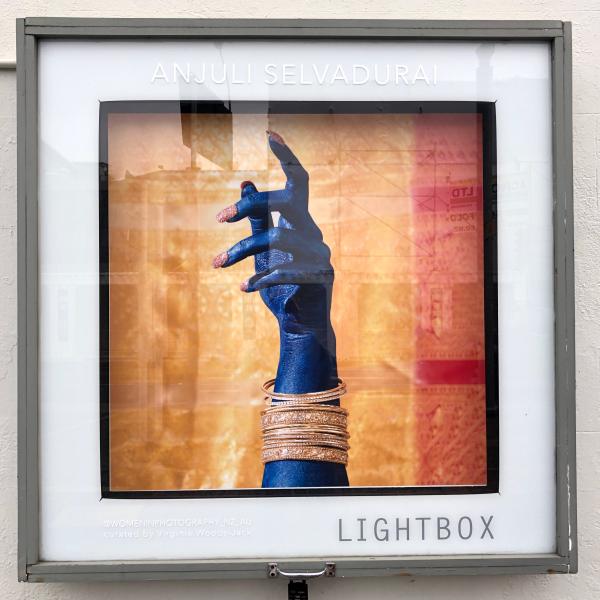 Body
Progressive Ideals #8
Welcome one and all to this final instalment of We Look to the Future with Progressive Ideals. This project and the artists who have brought it to life, have afforded me the incredible opportunity to share their work, their words (and mine) over an extended period of time both online and through the glow of the Lightbox at Thistle Hall.
Thinking about the future through the lens of these women and non-binary artists brings the term Hopepunk to mind.  A concept that arose from a political mood of resistance, in the first instance in the arena of Climate Change.  If you stand back and look at the world at large, how it is presented to us in the media, catastrophe and despair are the order of the day,  using these tactics isn't new and only serves to keep us in a stalemate that serves the few. Hopepunk, pushes back against this, in the face of this and requires us to genuinely care about outcomes, it isn't about submission or acceptance of the status quo, it requires bravery and strength - standing up and fighting for what you believe in.
When I look at the work of our final artist Anjuli Selvadurai @bbygrl_anj it inspires and encapsulates many of the aspects of Hopepunk. Anjuli's work is deeply beautiful but never naive, there are elements of fantasy, not as an escape from the world, from reality or from self, rather it is an invitation to go deeper; to fortify, to stand up for ourselves and others. Anjuli's work emboldens in its demands for a better and kinder world and more importantly, when looking at this work I believe it is possible. There is a generosity to Anjuli's work, she draws us in and allows us the space to explore how we can practice a sense of self that isn't dictated to by society and the myriad of limitations it places on us all - it is a performative invite to explore self-acceptance in all our myriad of forms and therefore imagine what this could look like for us, collectively.
Through the generosity of the @thistlehall_community_venue Lightbox, these 8 artists have lit up one small corner of Pōneke.  The concepts we have presented and discussed are integral to both our present and future and require our attention as do all the artists, please do follow them. Thank you to everyone who has joined us on this journey - we are just dotting the i's and crossing the t's for a collective showing of these works housed within an upcoming project of @fog_moon_studio so please do watch this space. For those of you not in Pōneke don't fret I will also be sharing this project as a collection on WIP with an accompanying poem written by @writtenbyarihia in response to this project.
Thank you a million times over everyone. Virginia x 
----------------------------------------------------------------------
Tāmaki Makaurau based visual artist, Anjuli Selvadurai, works within the realm of photographic imaginings. Her practice is a visual exploration of her dual British and Malaysian/Sri Lankan Tamil identity. Anjulis' work is informed by her experiences as a first generation New Zealander grappling with notions of physical belonging, cultural distance and identity politics. 
Anjuli is currently studying a Masters of Heritage Conservation in Museums and Cultural Heritage at the University of Auckland. 
-----------------------------------------------------------------------
Gitas' Hand
I reach out to a future where I accept and express myself wholeheartedly. Where my identity isn't painted white, but embellished with gold. 
Gitas' Hand was made as a part of the self portrait project Gita. Up until this period I made work interogating notions of my cultural identity, without truly confronting perceptions of myself. In doing so I was able to creatively direct and visualise my own self portrait, a fragment of myself at that time. I see this project as an ongoing, a living entity that will disappear and re-emerge throughout my life and practice.
Adornment is an important aspect of these portraits. I chose to utilise moments of my performative identity by dressing and staging myself. At times causing myself to question my internal self vs my external self. I wanted to highlight the fluidity of my cultural identity and celebrate that I am not tied to one stagnant way of being.
Start Date
12 September -
End Date
25 September 2021
we look to the future with progressive ideals - #7. 2020. From the series My Body Is My Vehicle
Artist
Sage Rossie - Women in Photography NZ & AU
Main Image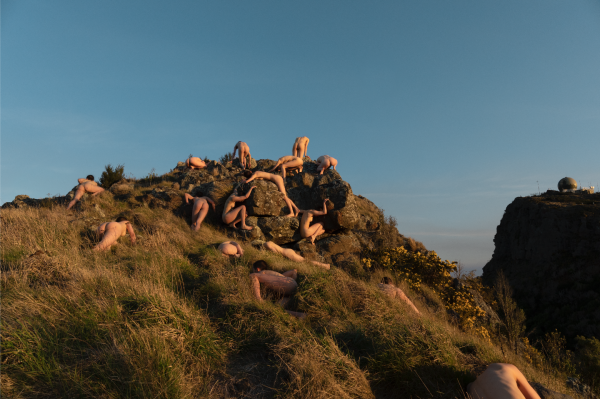 Gallery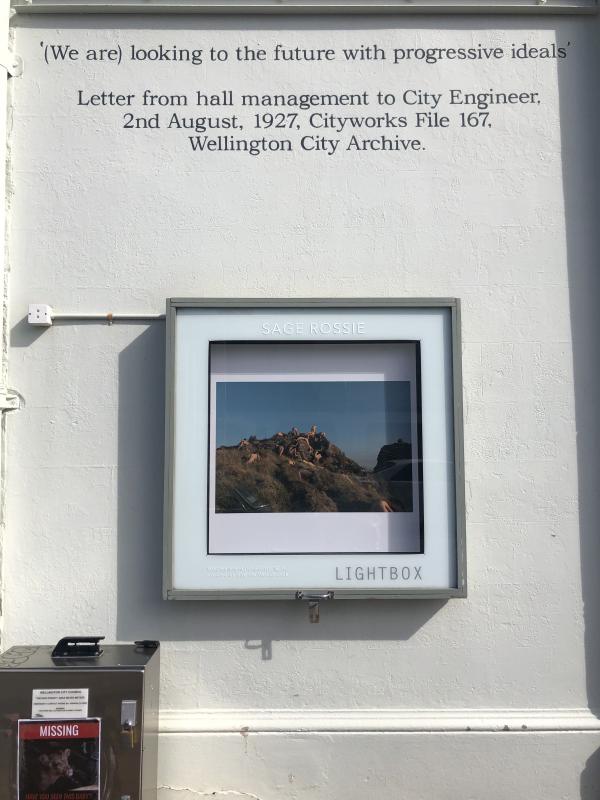 Body
Nau mai haere mai! Welcome to the 7th instalment of our transitional journey as 'We Look to the Future with Progressive Ideals.' Tena koutou katoa, this is Tanya Ruka @fog_moon_studio standing in for Virginia as she recovers and rests, we send you aroha our dear friend. 

For me looking to the future is a hopeful activity, no matter what is happening in the present or has happened in the past, in the future we have an open opportunity to create and manifest change not only for ourselves but also the people who occupy presence in our lives and living environments, every moment presents us with an opportunity to change life for the better. This fluidity within our mindscapes intrinsically enhances the potential for our physical existence. 

When we place ourselves in future-scapes what do our ideals look like? What dream sequences do we narrate for ourselves? What has changed? What is the same? How am I? These are some of the powerful questions we have the opportunity to ask ourselves and learn answers to as we move through time and space. We, as physically aware sentient beings interacting with each other and the more than human world. 

The playful yet powerful nature of Sage Rossie's @mouldyjuice work allows us to visually imagine the fluidity of future-scapes. Generously Sage shares their body and story, it is their body beautifully rendered simultaneously within moments of past, present and future states; morphing multiplicity and coexisting, their physicality is entwined with Papatuanuku an extension of self. 
Here we see the very personal unfolding and intimate journey, the primal and exposed vulnerability of climbing mountains within the mind. Artists through time portray this imagery as the human struggle for enlightenment.  In this image Sage allows us this moment of recognition, it is shared in a self-affirming awareness of crossing liminal boundaries. 
This is a gift, as together we share the weight of oppressive engendered systems. In Sage's landscape we are made aware of and transported to redefine our own existence – we are the engineers of our own futures. 
Sage Rossie @mouldyjuice is an artist/photographer currently working predominantly with photography and video. In their honours year of the Bachelor of Design at Massey University, their work has consistently circled queer images and expression, the entanglement of gender and the body as well as art as a vehicle for celebration and reclamation. Based in Te Whanganui-a-Tara and raised in Te Whakaraupō, home is a source of connection and inspiration in their practice
#7. 2020. From the series My Body Is My Vehicle 
 
I photographed this image on one of the tips of Banks Peninsula, over looking Te Whakaraupō, Lyttelton Harbour, a place that was home to me for 18 years. 
This image, along with the fourteen others of this ongoing series, have become a rehearsal, of sorts, a performance that becomes disconnected from reality, and reconnected to the self, as a being on this earth. Through engaging in a playful enactment of my physicality, I have been working to untangle my own issues around gender and the body, working out what it means, to me, to be non binary. In this series I flatten the form of my body and join them together to exist in a multiplicity. I feel my existence as a queer person through the multiplicity of my being. This series was born during lockdown last year,  being both in front of, and behind the camera, imaging and reinventing my own reality, has become a powerful tool in my practice. These works are about engaging with my existence as a human, reconciling with my gendered body and sharing that story visually.
We look to the future with Progressive Ideals - Astrae 2014
Artist
Becky Nunes - Women in Photography NZ & AU
Main Image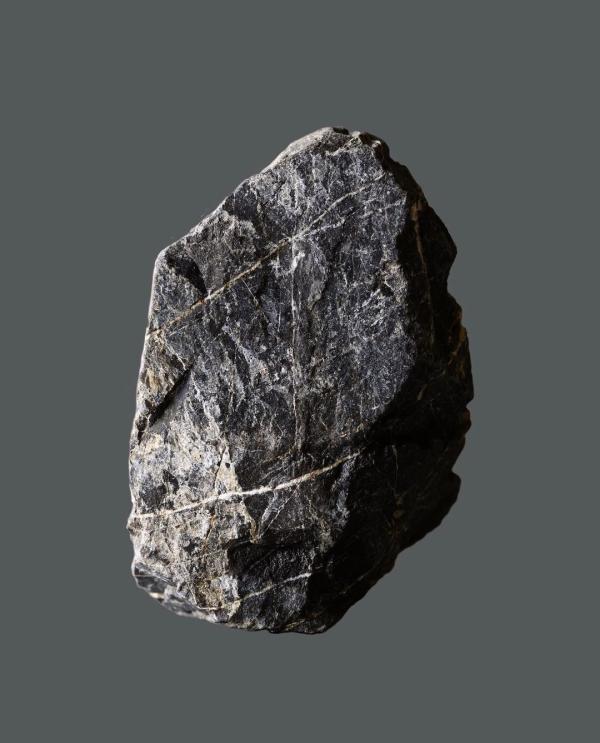 Gallery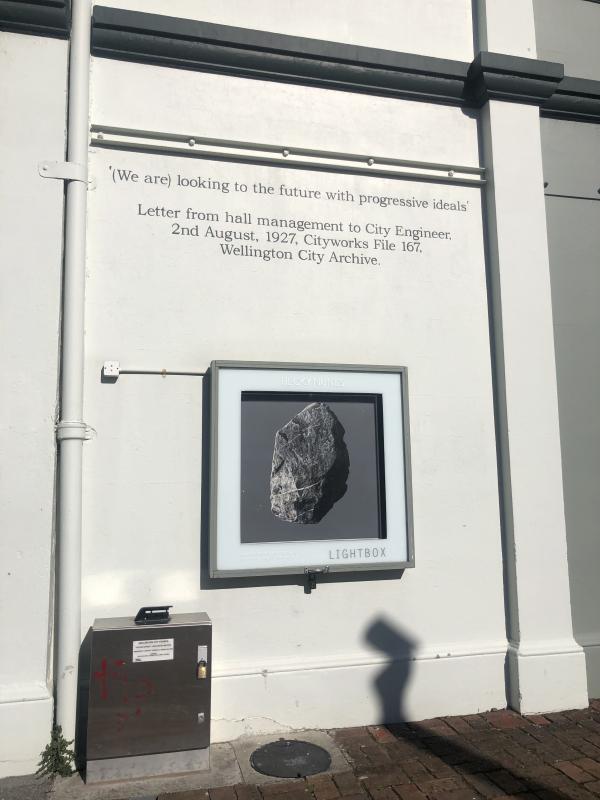 Body
Welcome everyone to this, our 6th of 8 instalments. In preparation for each artist, I find my thinking circling back to recurring themes that run through my practice, that of the artists and the ever-evolving community of Women in Photography NZ & AU. We all have unique ways of expressing these thoughts and concerns, but time and again, they surface in our work, as they should, as they relate to our relationship with the more than human world. Our ability to be in dialogue with Papatūanuku (Mother nature) requires that we listen and learn first and then we take action from this place, on repeat. She isn't a passive resource that we can extract from ad infinitum, rather a fount of knowledge and power with layers of deep time and histories, human and natural, that go way beyond our comprehension. That said, the ability for Papatūanuku, our children and future generations to thrive relies on us stopping and asking for guidance. Are we thinking in the long term in a world that is obsessed with short term gain? Are we becoming good ancestors? Attention to the environments around us, in every sense, and our relationship to them are foundational to our next artist @beckynunes_nz exploration. Becky is a generous woman whose dedication to education is expressed here in Aotearoa and the UK where she currently resides - with a robust research-based practice there is always much to learn from taking time with Becky's work. In terms of this project, that time is now.
Becky Nunes is lens-based artist and educator of Jewish and Cornish descent, recently relocated to the United Kingdom after living and working for many years in Aotearoa-New Zealand. She works in an expanded documentary framework, using lens-based tools to think about the problematic and complicated nature of land use, resource extraction and the amplification of marginalised and polyphonic voices. Nunes' practice is scaffolded upon the building of alliances with indigeneity, collaborative and Kaupapa Maori (Maori practices and protocols) methodologies. In her work she unearths and manipulates archival material, combining it with her own moving image & still photography. The co-opting of the documentary form into more activist and resistant outcomes have become central processes in Nunes' practice, and the writing of Donna Haraway, Erica Balsom and Ariella Azoulay amongst others gives invaluable context to her work. 'I think about walking as a method for generating embodied knowledge, and about ways to employ a "listening" camera as a research tool in the service of the community.' As an educator, Nunes' focus is on empowerment and making space for divergence in the classroom and curriculum. Her images have been awarded, published & exhibited locally and internationally. Nunes is a founder member of Tangent Collective (Aotearoa) and creative partner at 35a (U.K). She currently holds the post of senior lecturer in photography at Staffordshire University, United Kingdom.
Astrae 2014. 1500x600 from the series Co-orbital
 
This work, with the others in the Co-orbital series, was made as part of an open, co-authoring process with site. At the time of making the work, I was exploring the possibilities offered by psychogeography to open up alternate narratives of place. In practical terms, this meant focusing on an environment that I felt held rich and layered histories, and repeatedly visiting that site, whilst also sifting through the available archives in relation to the past. The objects and encounters that made themselves known to me during these times were, I reasoned, active participants in the project.
I think that synchronicity is really important in my practice. Not really in terms of "coincidence" but more in terms of alignments that can occur without orchestration by me. As many non-Western and indigenous cultures affirm, the human and more-than-human exist in a complex and interconnected system of ecologies, and I think it is this thought, above all, that really sparks with Woods-Jack's exhibition theme. It is imperative that we look to these more-than-human relationships if we are indeed to progress past this moment of Anthropocenic planetary crisis.
Astrae is many things at once. A glittering jewel-like rock, a piece of landfill forming the substrata of the Auckland University Business Centre, an orbiting asteroid, a suspended mineral composite, connecting to our human DNA through the dispersal of stardust on and in our planet from the Big Bang. Seeing all these possibilities in a small stone helps us to imagine a more progressive future for our planet.
we look to the future with progressive ideals - 'Māramatanga' (enlightenment)
Artist
Tanya Te Miringa Ruka - Women in Photography NZ & AU
Main Image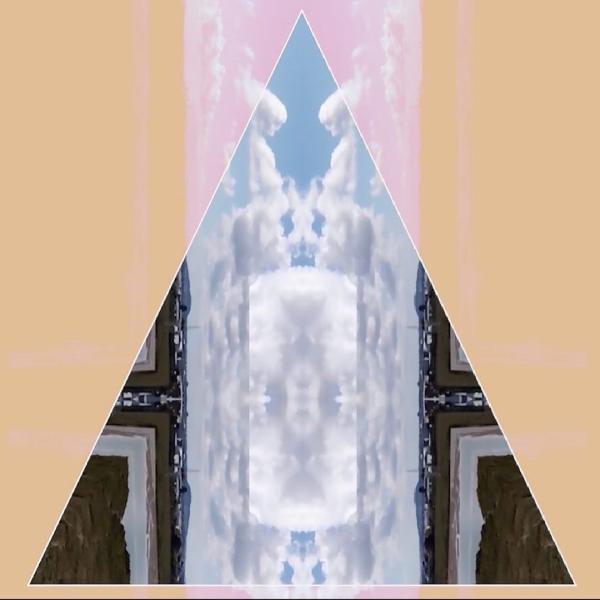 Gallery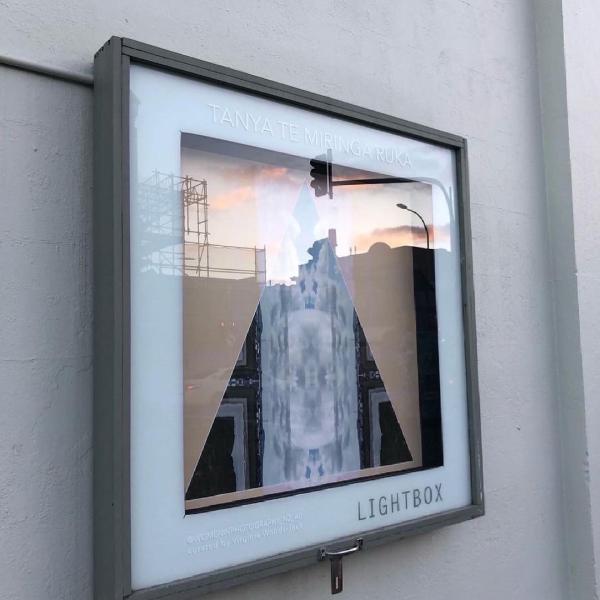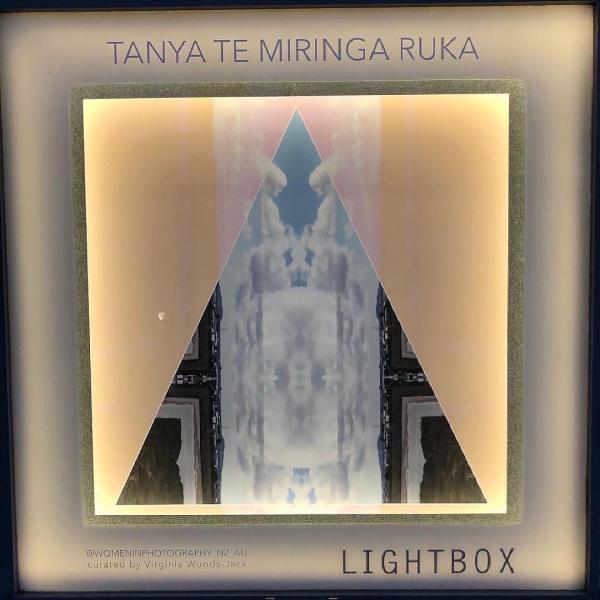 Body
Welcome, to this the 5th instalment in this 6-month project where I have had the utmost joy and privilege to curate the work of 8 female and non-binary artists who, I believe, posit both as individuals and collectively a way to look to the future with progressive ideals. Here in Aotearoa, New Zealand, it is Matariki (The Māori New Year). As someone who has settled in Aotearoa with mixed northern hemisphere ancestry, my understanding of Matariki is through reading and conversations. From this, I have learned that it includes acknowledging ancestors and the passing of loved ones in the last lunar year and looking to the coming year's abundance in the planning of the next growing seasons. The cold of winter brings with it a time for reflection, and the warmth in connecting with our family and community, and looking to the year ahead.  I  recently read on @tepapa one of the more popular legends relating to the star cluster Matariki which I would encourage you to explore further.  "The star Matariki is the whaea (mother), surrounded by her six daughters, Tupu-ā-nuku, Tupu-ā-rangi, Waipunarangi, Waitī and Waitā, and Ururangi. Matariki and her daughters journey across the sky each year to visit their tupuna wahine (female ancestors). During this visit, each of the stars help Papatūānuku to prepare for the year to come, using their unique qualities or gifts to bring mauri to her different environments. Whilst spending time with their kuia (elder), they also learn new skills and gain new knowledge from her, which they guard and pass on to others."  From the inception of this project, I had the artist @fog_moon_studio Tanya Te Miringa Ruka's work in mind for this time, and I am excited that that time is now.  When I think about the contribution of Tanya to both me personally and the communities she builds around her, they are abundant. This abundance comes in many forms and always includes knowledge, collaboration and care. Tanya's work straddles learnings from her tupuna as she navigates her relationship with the world around her whilst creating a pathway to a future that is necessary and will benefit all.
Tanya Te Miringa Ruka -Ngati Pakau, Ngapuhi, Waitaha
Tanya is a Māori Indigenous artist with a deep interest in indigenous ancestral navigational systems. 'I nga wā o mua' from times in front: thinking through Futures design using ideas of science fiction, fantasy and allegory to open pathways of potential located within indigenous futurism, eco futurism and alternative worlds.
'Māramatanga' (enlightenment).
Digital weaving of Whau river from the air.
HD video, drone footage 2020
Māramatanga is part of a community art project I have been working on in the Whau, Tāmaki Makaurau. 'Raranga, Rerenga, Rauropi | Weaving Biodiversity in our own Backyard'. Māramatanga is 1 part of 3, 'Kaitiakitanga' and also 'Manākitanga' digital weavings filmed in the Whau. Working within my art practice I have been evolving my own understanding of connection to the natural world. I found in times of trauma, surrounding elemental Tohu or signs would bring me great relief little things that would catch my attention, like sunlight on the water, kahu circling in the sky or a glint of mokomoko skink through the grasses. I found myself paying more attention to these momentary gifts from the natural world reconnecting with the wairua essence and spirit of nga whenua the land. This community art project was designed as work that would continue to learn, evolve and grow through interactions with the land and people. Mauri is the lifeforce of every living being, land, people and communities. Looking to the future, how do we protect, preserve and enhance the Mauri? My grandmother taught me that when you approach a tree or plant for rongoa or healing, you must ask first if it is willing to share with you its life force, and most importantly you must wait for its response. 
These digital weavings represent personal geospatial markers, documenting time spent in place.
we look to the future with progressive ideals - E Hoa
Artist
Deme Te Atawhai- Scott - Women in Photography NZ & AU
Main Image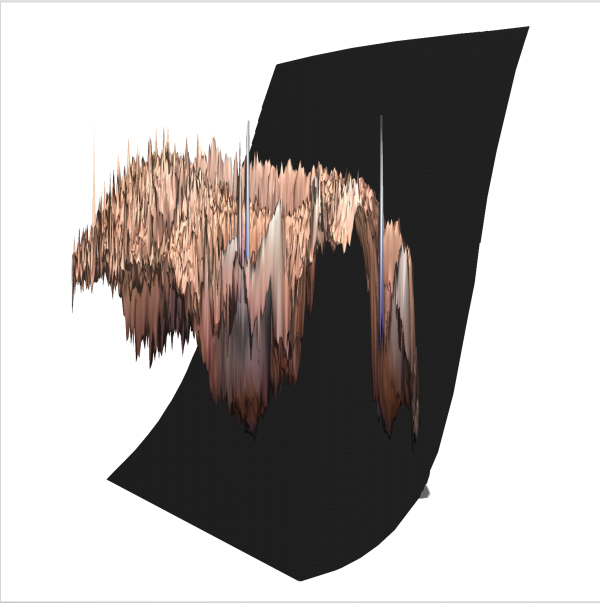 Gallery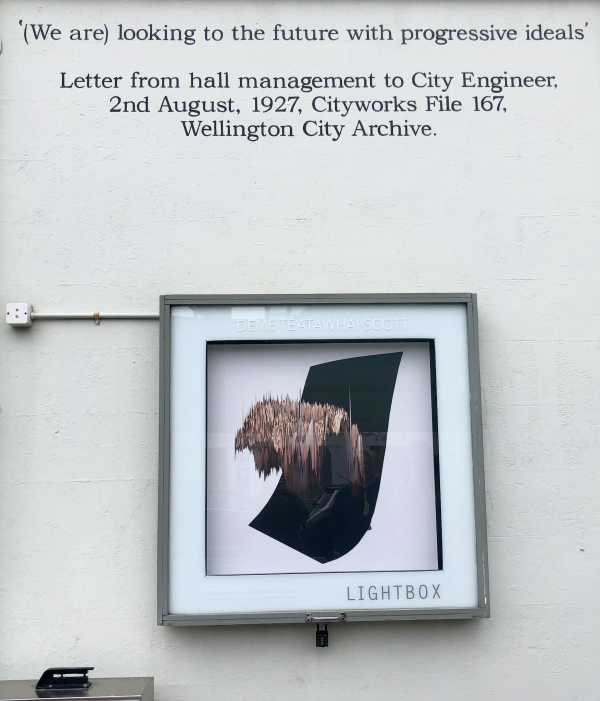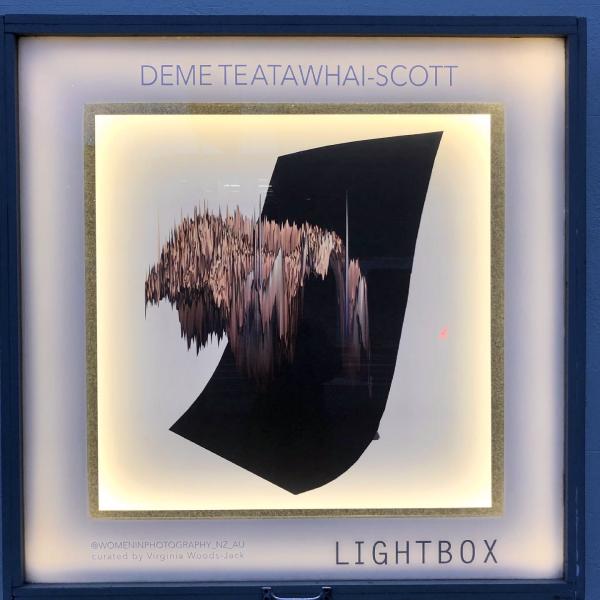 Body
When looking to the future there is a responsibility to acknowledge where we have come from and how the past informs the future - more so than ever. In Carl Mika's, 'Overcoming 'Being' in Favour of Knowledge: The fixing effect of 'mātauranga'.' Educational Philosophy and Theory he states "The agenda of colonisation has been the constant presence of a philosophical colonisation between the self and things in the world, accomplished by educational practices which […] ideally suit the freezing of things in the world so that they yield information." When I first arrived in Aotearoa in 2003 my understanding of colonisation was that it was a historical event that HAD happened not something that was still happening, being felt and lived by Māori in Aotearoa - I now know that that isn't the case. I recently purchased the BWB book Imagining Decolonisation as the publisher states "This book seeks to demystify decolonisation using illuminating, real-life examples. By exploring the impact of colonisation on Māori and non-Māori alike, Imagining Decolonisation presents a transformative vision of a country that is fairer for all."
It was this acknowledgement of the past and taking steps now towards a self-claimed future with a new vision that drew me to the work of Deme Te Atawhai Scott @de.teatawhai.scott the next artist in this project.
Deme Te Atawhai Scott - Taranaki, Ngāti Awa

D. Te Atawhai Scott is a photographer and filmmaker based in the Te Whanganui-a-Tara (Wellington) area. Scott works within the boundaries of the photographic medium to investigate the interwoven politics of identity and wā kāinga - home. Scott's work derives from her mixed Māori and Pākehā whakapapa. After graduating from Massey with an Honors photography degree in 2019, she has stayed in Wellington to continue her practice. Scott's work seeks to document the active liberation of decolonising forms of womanhood. 
E hoa - Friend 

This photograph is from a more extensive series The Children of Hineahuone, a photographic exploration repositioning wahine Māori as the storytellers of our whakapapa; this is an act of re-rooting ourselves to our whenua.

"Ko te maumahara kore ki ngā whakapapa o ōu mātua tīpuna, e rite ana ki te pūkaki awa kāore ōna hikuawa, ki te rākau rānei kāore ōna pakiaka."

"To forget one's ancestors is to be a brook without a source, a tree without its roots."

E Hoa is a photograph that looks like the flesh tone geometric shape is emerging from the backdrop. This work actively re-envisions indigenous portraiture of wahine maori to resemble infographic maps referencing the creation of Hineahuone, the first wāhine moulded by clay in māori mythology. This series of rendered photographs of wahine maori maps the space between our whenua and ourselves, we too are created by the soil of papatūānuku, and our wairua will always belong to our soil.
we look to the future with progressive ideals - Wairata 2020
Artist
Sara Orme - Women in Photography NZ & AU
Main Image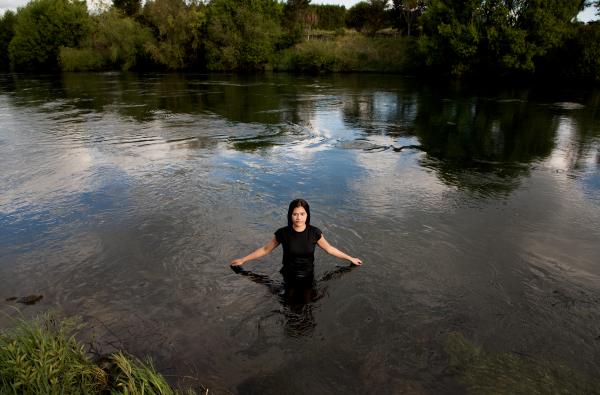 Gallery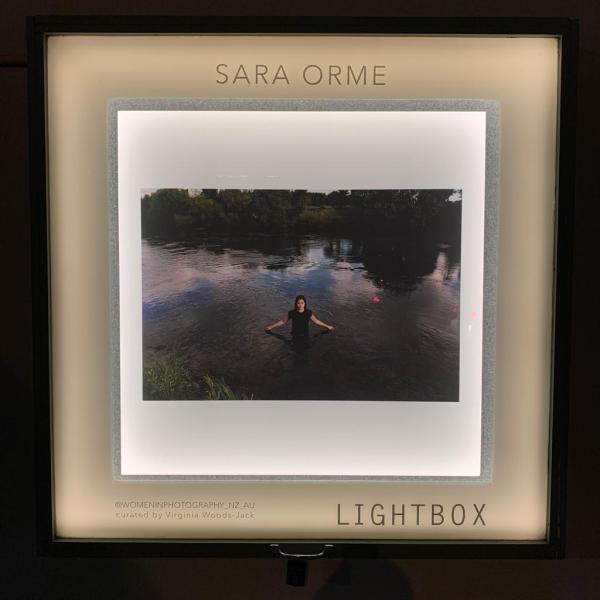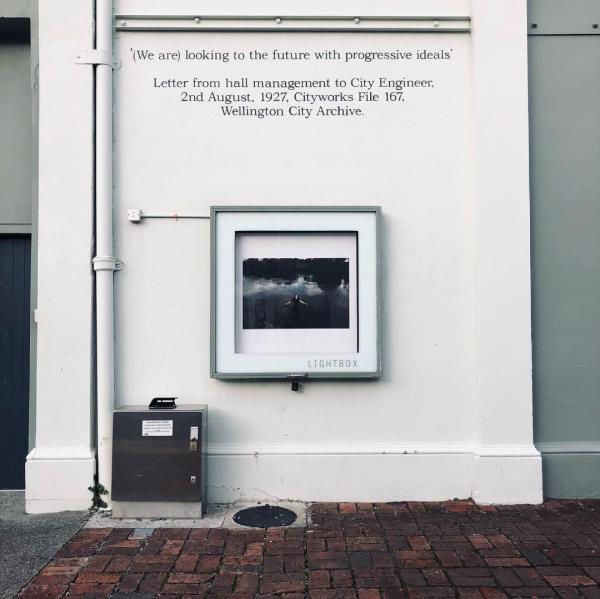 Body
When you look up the word progressive or progressive ideals it tends to throw up references to social reform and political agendas. If we are looking to the future with progressive ideals, for me, this means Intersectionality, a term coined in 1989 by Kimberlé Crenshaw. As @unwomen explains 'Using an intersectional lens also means recognising the historical contexts surrounding an issue. Long histories of violence and systematic discrimination have created deep inequities that disadvantage some from the outset. These inequalities intersect with each other, for example, poverty, caste systems, racism and sexism, denying people their rights and equal opportunities. The impacts extend across generations.' During our lockdown I was introduced to (1977) THE COMBAHEE RIVER COLLECTIVE STATEMENT - I can highly recommend reading this - being able to view inequalities through a much broader yet more focussed lens it integral to a progressive future for us all.
Many of you will remember the recent take over by @saraormephotographer whose work is approached with an intersectional lens towards both feminist and Māori issues and she is our third artist in this 6 month long project which I am so proud of.
Sara (Hera) Orme's sociology degree is an integral part of her documentary photography. Her korero exploring colonisation in Aotearoa, is informed by personal experience, the experiences of her whanau and the generations who have gone before them.
Her perspective is a paean to her wa kainga. Sara is based in Tamaki Makaurau with an endless rotation of visiting whanau amd we are very grateful for for her mahi and the depth of the kōrero that spring from Sara's practice.
Sara (Hera) Orme
Ngāti Awa, Ngāti Turawhai, Ngāti Whakaue

Wairata Tahana -Te Teko- is part of an on-going work referencing my whanau in the small, predominantly maori populated town of the same name. A personal series, which began soon after the death of my father some 12 years ago, is rooted in my exploration of tipuna, whakapapa and the takaoraoratanga my father and the generations before us faced.

Wairata Tahana references both our heritage as Ngati Awa wahine and descendants of Kahupake and is a reminder that in 1865 on the the banks of this very river, our awa The Rangiaitaki, 100,000 hectares of Ngāti Awa land was stolen by the Crown leaving Maori landless, resources destroyed and leaving an entire people culturally and spiritually impoverished. Continuing this korero through my photographs has become essential to my work. It's important for these stories to be shared and understood. I want this work to ignite more than a drive through experience of a small town in Aotearoa and only witness the visible impoverishment. Understanding history is essential to understanding the contemporary world.

Te Teko draws strongly on the complexity of colonialism in Aotearoa, The Raupatu, consequences of dislocation and assumes norms that are referenced from history, memory, whenua and my own relationship with Te Teko today. I am a visual sociologist researching and surveying these experiences in my photographs.

By understanding the past we can understand the present and look towards a future with progressive ideals.

To quote historian Vincent O'Malley; "It's about taking ownership of our history, binding us together as a nation that can honestly confront its own past. We need to own this history. Doing that is not intended to sow the seeds of division or disharmony. It's the basis for genuine reconciliation.
we look to the future with progressive ideals - Sophie 2020
Artist
Sam Gorham - women in photography nz & au
Main Image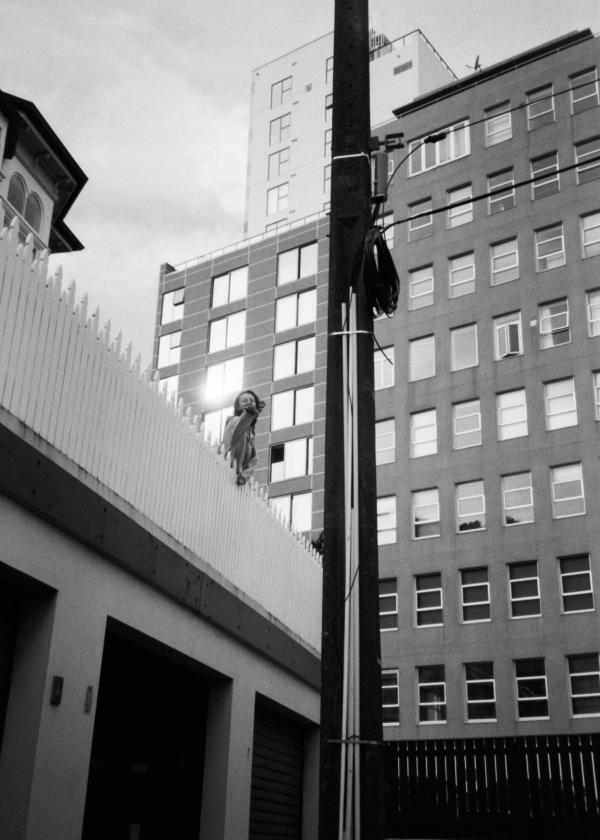 Gallery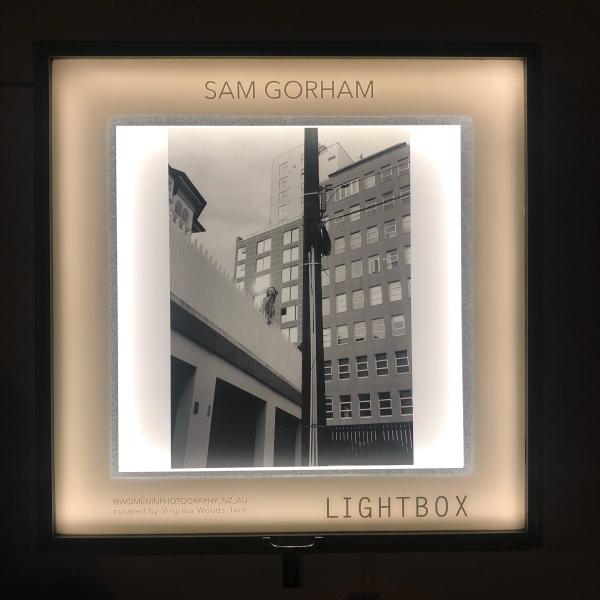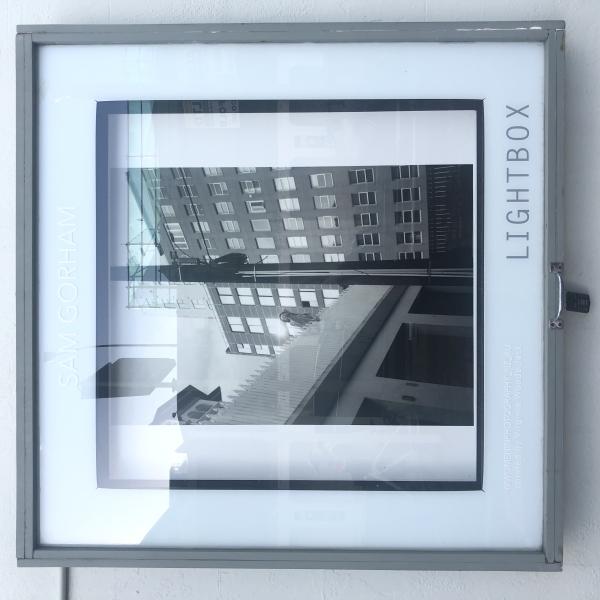 Body
As this project developed I thought more about what progressive ideals might have meant in 1927 and who would have written those words and to whom they were addressed and would those ideals have encompassed the voices in this project. In Aotearoa at that point Women's Rights were on the move, we had had the right to vote for over 3 decades. Women won the right to stand for Parliament in 1919, and in 1933 Elizabeth McCombs became the first woman MP. In 1927 Dr. Nina Muir, New Zealand's first woman house surgeon, became the first woman president of the Medical Association of New Zealand. As we all know the journey to equality is a long and ongoing one, each generation has its own sense of purpose and drive knowing that the choices made and actions are taken before us impact on our present and in turn, our choices will impact those of the future.

With those thoughts in mind, I am excited to introduce our second artist Sam Gorham @gorhamsam. Sam is a Pākehā photographer and picture framer based in Te-Whanganui-a-Tara. She graduated Massey University in 2018 with a Bachelor of Design majoring in Photography. Her ongoing works include: history of materials in Aotearoa, online surveillance and its ethical dilemma, and self-identity. 
Work: Sophie, 2020.
Excerpt from This is not an exit, 2018-ongoing. 

This is not an exit, as a series, began to take shape when I noticed patterns in my recent photographic works tied to mental distress. The photographs are vernacular, subconscious photographic firings in response to my emotions at the time of shooting. Often I am hit with "photographers regret", wherein a sublime moment will pass in front of my eyes uncaptured. During depressive states, I swing between completely obsessed with not losing anything and entirely unphased if I were to never photograph again. 
Sophie was captured, hovering over the edge of Rachael's balcony, during lockdown in 2020. I remember how I felt about that photo as soon as I took it - I wanted it to be an exact portrayal of my feelings at the time. At that time, and the same within other photographs of the series, looking to the future seemed extremely foggy. In showing these images I offer a sense of self-awareness and wanted connection. 

We are looking to the future with progressive ideals poses an interesting statement, one of the collective sights set on a future - foreseeable, unimaginable, or tangible? 
The images I've chosen reflect a slow progression of societal understanding towards mental wellbeing; a change witnessed in street vandalism, bonds of friendship in hardship, self-healing, and self-awareness or recognition. Colourless film documents a double entendre of "black and white" thinking, often applied to people with mental distress by those who have little understanding of the subject matter.

 
We look to the future with Progressive Ideals - Bring Everything Today 2021
Artist
Poppy Lekner - Women In Photography NZ & AU
Main Image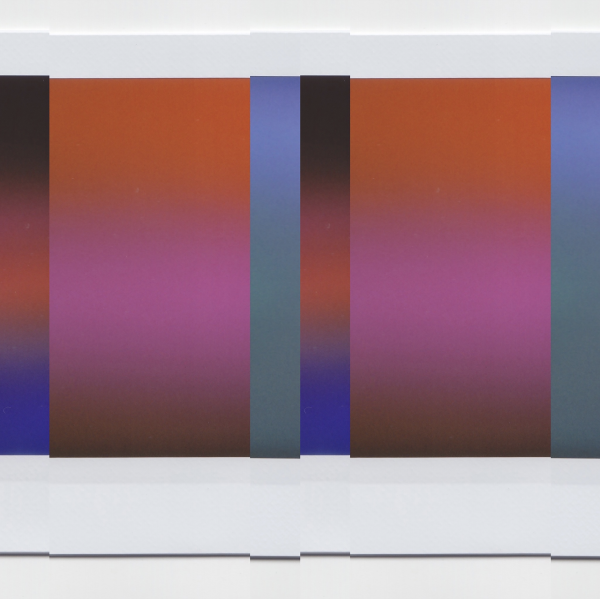 Gallery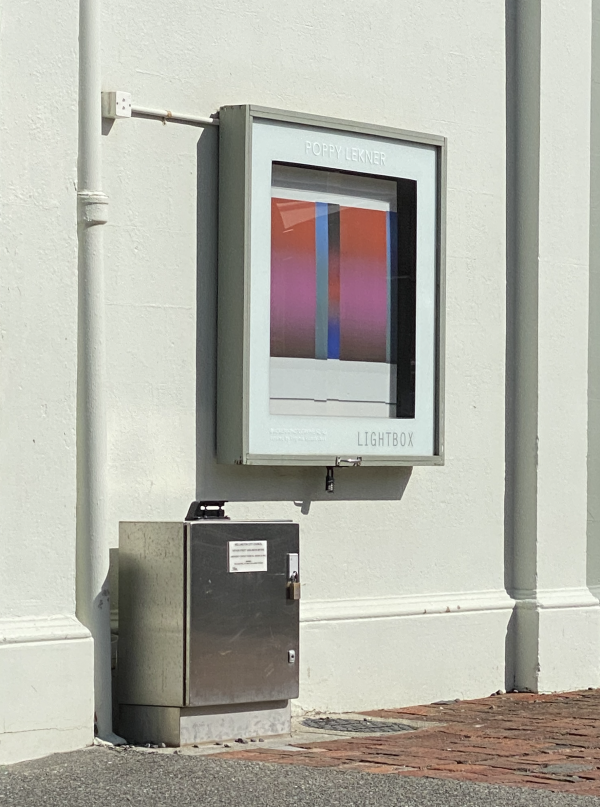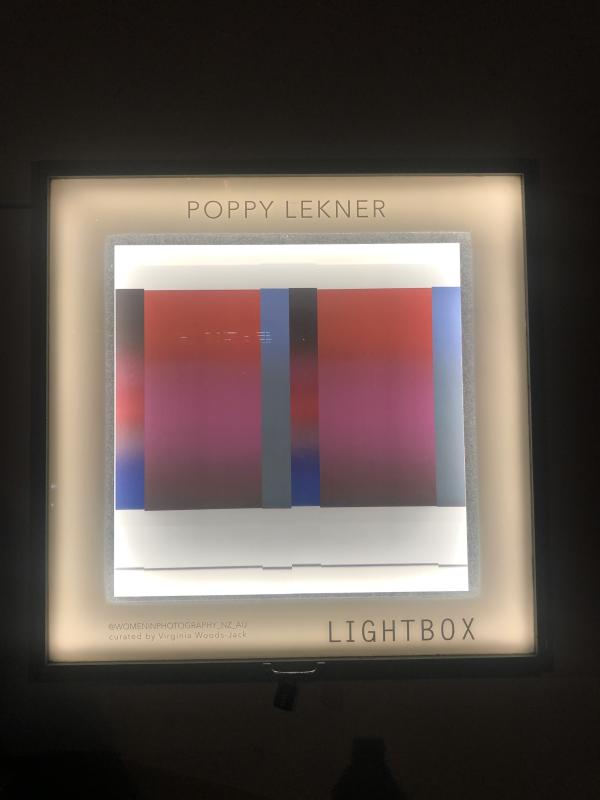 Body
When thinking through this project, which artists to invite, and my hopes for a real-world window into an ongoing online project, I spent time sitting looking at the lightbox on the side of Thistle Hall as well as looking through the Women in Photography NZ & AU feed based on Instagram. 

For those of you who know the building and the wall, the Lightbox sits on there is, a quote taken from a letter from hall management to City Engineer dated 2nd August 1927 where they state  'We are looking to the future with progressive ideals'. 94 years later this gave me the words that weave through many of the themes of the 88 artists who have shared their work to date. Of these 88 I have chosen 8 artists from Aotearoa, 1 now resident in England, whose work resonates with a future I want to be a part of founded on more progressive ideals. Ideals and ideas of connection and reconnection to Whenua and self, acceptance, decolonisation, acknowledging the layers of history, our present and how everything we do now informs our future. 

Over the next 6 months, you will have the opportunity to experience the work of 8 artists - a singular image from each, present and visible day and night - here in Te Whanganui a Tara Wellington. Each image is a glimpse into the artist's practice and the wider community of WIP NZ & AU - a platform highlighting female/identifying and non-binary creators working in photo-based arts in NZ & AU. Engage. Connect and Debate. An invitation for you to explore further. Please do join us online for further discussions and at the conclusion of each artists work we will be hosting an Insta Live between the curator Virginia Woods-Jack  @virginiawoodsjack and the artist.

I am excited to announce that our first artist is Poppy Lekner @poppylekner based right here in Te Whanganui a Tara.
Poppy is an experimental process artist - after art school she started working with her grandmother's books making these into biographical sun-based photograms on silver gelatin paper, since then her work has evolved to use light and object in many different ways - mostly cameraless. Her recent work has focussed on colour fields and synthesised landscape. In 2020 she was part of the Struck By Light exhibition as part of the Royal Photographic Society 100 Heroines Project in the UK, The International Alternative Processes Exhibition in New York and the winner of The Parkin Drawing Prize, later this year her work will feature in the Struck By Light show in Barcelona. She lives with her husband and their three kids in Te Whanganui-a-Tara Wellington. Stay tuned for a post later today when we will reveal Poppy's contribution to this project.
Poppy writes of her piece.
My work "Bring Everything Today', 2021 from The Glow Series is an imagined landscape made of pieces flipped and upright but without up and down, constructed in complete darkness using light and film. This work is about sense making and moving forward with a deeper sense of place through making creative connections through experimentation and reflection, in my own way "looking to the future with progressive ideals".

Maggie Smith's poem relates to this possibility "How Dark the Beginning"…

All we ever talk of is light…
…let me speak on behalf
Of the good dark. Let us
Talk more of how dark
The beginning of the day is.
Untitled
Artist
Harriet Waldron & Harley Bell
Main Image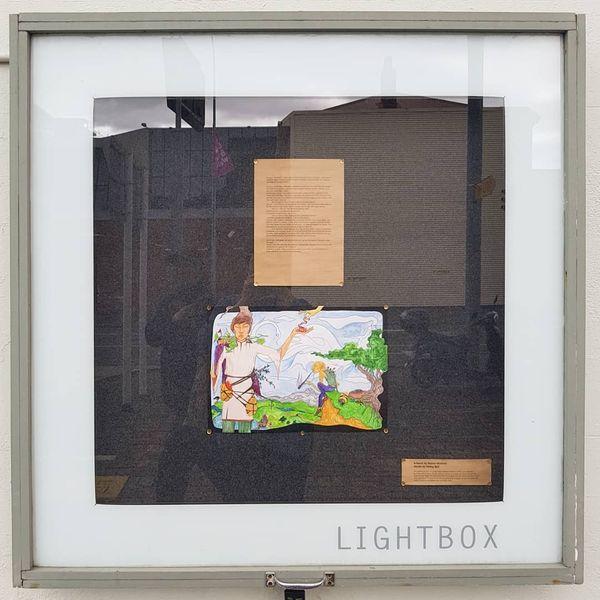 Body
This lightbox project is a collaboration between artist and writer, lover and lover, boyfriend and girlfriend. It's like raising a sapling from seed. Like observing new life, stem and leaf: adapt and interact with its environment. Like the careful pruning of a tree. Then plucking at the plant for its fruit and gnawing at its seeds. So with the seeds, the cycle of creation and collaboration can begin anew.
End Date
23 December 2019
26th June 2019 - Badlands National Park, South Dakota
Main Image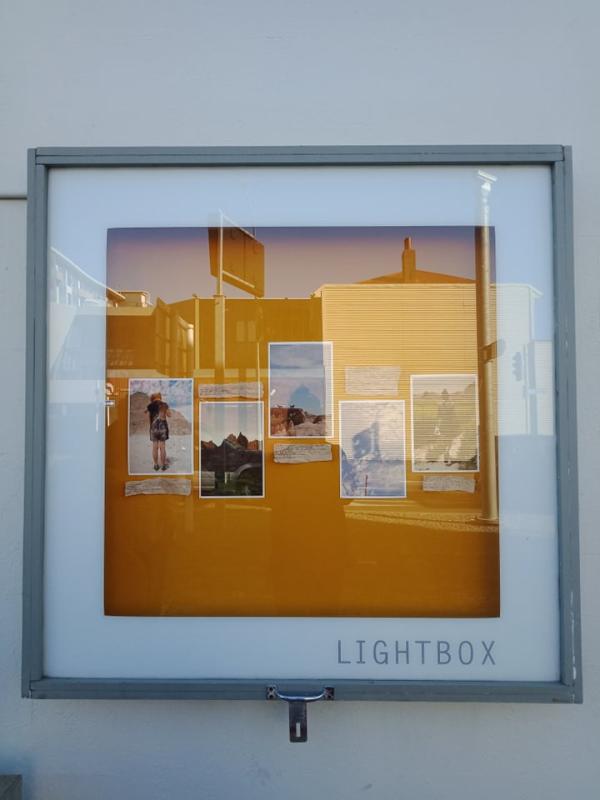 Body
Lightbox is pleased to present '26th June 2019 - Badlands National Park, South Dakota' by Anna Persson, on until the 23rd of December and curated by Melina Payne.
Artist Anna Persson explains:
"I've always held a deep love and admiration for landscapes - both internal and external. This year, I embarked on a life-changing journey across the United States with my pal, Alissa. We hitchhiked over 5000km from Wisconsin to Oregon with journals, instruments, and a camera. Four days into our adventure, we found ourselves in the surreal Badlands National Park - our lives forever changed by hiking through the desert and later surviving a lightning storm in a $20 tent! These photographs and reflections are from that day - 26th June 2019 on the Castle Trail in the Badlands National Park, South Dakota." Anna Persson is an all-round creative bean hailing from the most isolated city in the world (Perth, Australia). When not chasing Summers in the Northern Hemisphere, she can be found embracing Summers in her adopted home of Wellington, New Zealand. Anna's work marries her vagabond lifestyle and passion for travel with her sense of whimsical joie de vivre.
bach no. 7
Artist
Nadine Meyer / Sophie MacDonald
Main Image
Body
Lightbox is pleased to present 'Bach No. 7' by Nadine Meyer with accompanying text by Sophie MacDonald, showing until the 6th of December and curated by Melina Payne.
Artist Nadine Meyer explains:
"'Bach No.7' is one of the found object assemblages from my 'Baches series'. These works represent the New Zealand phenomenon -- the bach -- a small, often very modest holiday home or beach house. I made 'Bach No. 7' wanting to preserve the beauty of old baches with their eroded, faded, broken, chipped, fringed, rusted materials by incorporating them in my work. Each of my pieces are assembled similarly to the way the original baches were/are constructed -- they are small in size, adopt a square-like form and are largely made from found objects and cheap or recycled materials; most of which were collected either from site of the property where I live or the beach nearby."
In their response named 'Fantastic Voyage', Sophie MacDonald writes:
On the fringes
eroded and distorted, she will stay;
chipped teeth, chewing on sand
and a gritty tongue, licking, lapping,
Pawing, at the porch.
Though, her fixtures – askew,
she will not weep.
Floorboards bowed and bowing
to the weight – of the air,
saturated, with salt – or perhaps –
the echoes, the chatter
of children, or ribs, cracking;
Does she tow her own ghost?
We, paralian children, are clever; we know
that though the wind may buckle her bough,
it will not break her.
Resilience, rust,
with a head upon her breast,
we will fall;
asleep.
Though nobody is home
she will reserve the right
to take a new name.
Sophie MacDonald is a student that grew up in a small rural town in the King Country, before moving to Wellington to pursue studies at Victoria University. She has been interested in writing since a young girl but didn't start writing poetry until her time at university. While she loves writing, Sophie also explores other mediums of art, such as painting, ceramics, and drawing, when time allows it.
Thistle Hall Update
Kia ora,
Please click here for our current policy under the Traffic Light System.
Ngā mihi maioha