Regular Activities
Time
Mondays; 5:30 - 6:30pm
Cost
$25 for Unlimited classes all week at different location. Max, 3 classes per week.
For Who
Beginner and Intermediate fitness levels. 18 years old and above plus former athletes and ex fitness freaks who have fallen off their fitness journey and need to get back on track ASAP
Where
Upstairs Hall, access from Arthur Street
Contact
David M - tvitamafi@gmail.com - 0224679572
CodeElite is an Interval Style Team Training for beginners and Intermediate fitness levels for more information please visit; www.codeelite.co.nz Instagram: @codeelite
Time
Once monthly on a Wednesday; 6:40 - 9pm
Cost
Under 16 and 60 and over, $5. 16 to 59, $10. Cash on Entry only
For Who
All levels welcome, come with friends or solo
Contact
027-395-5719: ask for Arthur.
You are invited to join us at our club for great games on the Othello board. Only a few minutes to learn. The board changes with every move and so does your strategy. But be careful, the most obvious move may not be the best move. The player with the most disc's at the end of the game wins.
Games begin at 7:15pm. 5 games per person per night, finishing at 9pm. Please be on time.
April 20th, May 11th, June 8th, July 13th, August 17th, September 14th, October 12th, November 9th, December 7th
Time
Fridays; 9:30 - 10:30am
Cost
$11 - $18. First class free
For Who
For anyone who loves to dance, and wants to improve their fitness, and have some fun
Where
Upstairs Hall, access from Arthur Street
Contact
Virginia Keast: 0276403595 / virginia@neverstopdancing.co.nz
Never Stop Dancing dance fitness classes are all about MUSIC you LOVE, MOVES you can master, FRIENDLY people, and genuinely FUN fitness.
Time
Wednesdays (during the school term); 1:00 - 2:00pm
Cost
Gold coin koha recommended but not required
For Who
People aged 15 and over with disabilities and their carers
Where
Upstairs Hall, access from Arthur Street
Contact
Sarah McKenzie: 09 636 3029 / info@dancetherapy.co.nz
Dance 4 Us is a therapeutic, community-focused programme designed to support adults and young adults with disabilities. Sessions focus on creative self-expression, creating social connections, developing emotional literacy, and having fun with movement and music.
For more information, visit:
Locomotive: Improv Theatre Training
Cost
$220 / 8 week term, concessions & scholarships available
For Who
Our introductory workshops are for anyone interested in learning the skills of improvised theatre, whether an absolute beginner or seasoned pro.
Where
Upstairs Hall, access from Arthur Street
Contact
Jennifer O'Sullivan: hello@lovomotive.nz
Locomotive is an improvised theatre training centre based in Te Whanganui-a-Tara, Aotearoa (Wellington, New Zealand). We deliver grounded, well-rounded training in theatrical improv and related skills through term-based, weekend, and one-off workshop programmes. We aim to grow improvisors into performers and creators with strong stagecraft, competent skills, joyful teamwork, and an awareness of the context and whakapapa of the work they create and contribute to.
We especially invite marginalised improvisors including Māori & Pasifika, queer/LGBTQ*, and disabled people, and will work with you to ensure our training is accessible and supportive.
For more information, visit: www.locomotive.nz www.locomotive.corsizio.com
Time
Every Friday (during school term times); 3.30 - 6.30 pm
Cost
$20 - $25 dollars per hour class
For Who
Anyone young people that love to sing, act or dance! No previous experience required. These classes are split into age groups.
Where
Upstairs Hall, Access from Arthur Street
Contact
Imogen Prossor: wizztheatreacademy@gmail.com / 027 272 7023
Wizz Theatre Academy is all about fostering a lifelong love of theatre in young people. Theatre is a great way to explore and express creativity, learn important life skills, build confidence and have fun! We love to sing, act, and dance and individually cater to each and every student. Wizz offers after-school classes specialising in Musical Theatre in Brooklyn and Te Aro. Students have the option to sit solo Trinity International examinations. Classes are suitable for ages 6 to 18 years. Sign up for 2022 classes now - limited spaces left!
To find out more about classes, enrolments or holiday programmes, please take a look at our Website: www.wizztheatreacademy.co.nz
Brazilian Choro Study Group
For Who
Anyone who would like to learn more about Brazilian choro. All are welcome, all levels of skills. You will learn what you need to know to join a roda de choro (choro jam) and play this treasured music.
Contact
Choro Study Group Wellington Facebook Page
In Brazil and worldwide, choro is famous as a form of community sharing and celebration. The typical setting is to gather around a table, open invitation to anyone, and each person plays as much or as little as they feel experienced to play. Dancing and group singing is also encouraged.
Wellington Classical Guitar Society
Time
4:15pm to 6:30pm first Sunday of each Month, March to December
Cost
$40 per member (other fees apply for families and students)
Contact
Richard Croad 
www.wellington.classicalguitar.org.nz
Classical guitar ensemble playing by members, solo playing by members, and sometimes a short concert by an invited guest or members of the Society.
The purposes of the Society are to:
(a) Provide a forum for people of all ages who enjoy classical guitar to meet, play, and listen to classical guitar music through Member's meetings, performances, concerts, courses, workshops, and the like;
(b) Assist, establish, and promote performances, speakers, concerts, and workshops by local, national, and international artists;
(c) Give Members opportunities to broaden their classical guitar skills and knowledge;
(d) Provide an environment to play and learn about other instruments compatible with classical guitar, including voice;
(e) Assist, establish, and promote competitions and examinations for guitarists;
(f) Foster contact with other guitar societies and organizations;
(g) Undertake other activities helpful to the above purposes.
Time
Every second Friday, 6-8pm [CURRENTLY POSTPONED UNTIL FURTHER NOTICE]
For Who
Anyone who has an interest in knitting, no matter how confident
The Little Red Reading Group
Time
Every last Wednesday of the month, 5pm - 7:30pm
For Who
Participants will be encouraged to become members of the WWEA but this is not necessary.
Contact
Sherri Atkins
A Wellington Workers Education Association (WWEA) reading group exploring the fundamentals of socialist, anarchist and feminist thought.
Readings are made available from of Facebook group; www.facebook.com/groups/littleredreading
Time
Every first Sunday of the month, 2pm - 4pm
For Who
Members, anyone can join
Krav Maga Self Defence for The Community
Time
Every Wednesday during school term time, 5:30pm - 7:00pm.
For Who
Beginner Self Defence Class for everyone in the community.
Contact
www.facebook.com/tacticalsurvival.co.nz
We teach people awareness, de-escalation, legal rights/responsibilities, fitness, conditioning, how to fight back, how to use your voice, how to escape various holds, grabs, weapon threats, gang attacks, robbery, sexual assault...etc. We offer this training in an upbeat, friendly, open and welcoming, supportive and fun club culture and environment. We offer the most experienced, most pressure-tested and realistic self-defence training in all of Wellington. Operating since 2008.
Students who are interested are encouraged to join at the start of each school term. Please see www.tacticalsurvival.co.nz for dates.
Time
Thursdays, 6pm - 8pm
For Who
Our classes are open to beginners who would like to try out training with us.
Contact
Teaching the Brazilian dance and martial art known as Capoeira. We are part of an international school called 'Semente do jogo de Angola' which is run by Brazilian master, Mestre Jogo de Dentro.
Time
Wednesdays, 7pm - 8:30pm [POSTPONED UNTIL 6 JULY 2022]
For Who
Beginner and intermediate level
Contact
Dr Stephan Yan: 0211875654 chinzanz@gmail.com
Beginner and intermediate level Tai Chi classes. Tai Chi is a wonderful way to improve your health, wellbeing, self confidence and learn self-defence. Come and join us!
Sessions in 2022 will resume on 23 March
Time
Sundays, 7.00pm - 9.00pm
For Who
The LBGTI community and friends
Where
Upstairs hall, entry via Arthur St
Core Connexion on the Open Floor Dance
Time
Every other Tuesday, 7.00pm - 8.30pm
For Who
This Conscious Dance practice is for anyone who likes to experience the joy of moving their body freely.
Where
Upstairs hall, entry via Arthur St
Contact
Participants are guided to listen to and sense their bodies and give expression to their own individual movements, to dance the dance that only they can dance. A great variety of music and rhythms will inspire slow and internal dances as well as wild and exuberant ones. Doing this together creates community, an opportunity to commune with self and with each other – getting to know yourself a bit better and having fun along the way. Come play! No experience necessary, every 'body' is welcome.
Ingrid Kölle
dance@coreconnexion.co.nz, 021 265 9027
Time
Tuesdays & Thursdays, 7:00am - 8:00am
Cost
Free, book online. Mats also available.
For Who
Free vinyasa yoga for all levels. Everyone is welcome.
Where
Upstairs hall, entry via Arthur St
Voice: Toning & Improvisation
Time
Tuesdays, 9.00pm - 10.15pm
Cost
Free but koha appreciated
For Who
Anyone with an interest in vocal toning and improvising with the voice
Where
Upstairs hall, entry via Arthur St
Contact
Chris Prosser
021 076 5572
Image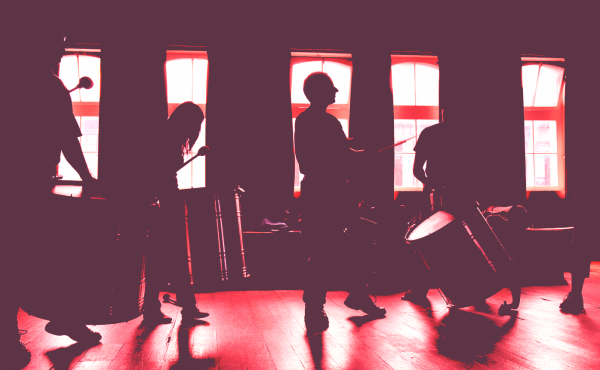 Thistle Hall Update
Kia ora,
Please click here for our current policy under the Traffic Light System.
Ngā mihi maioha