Main Image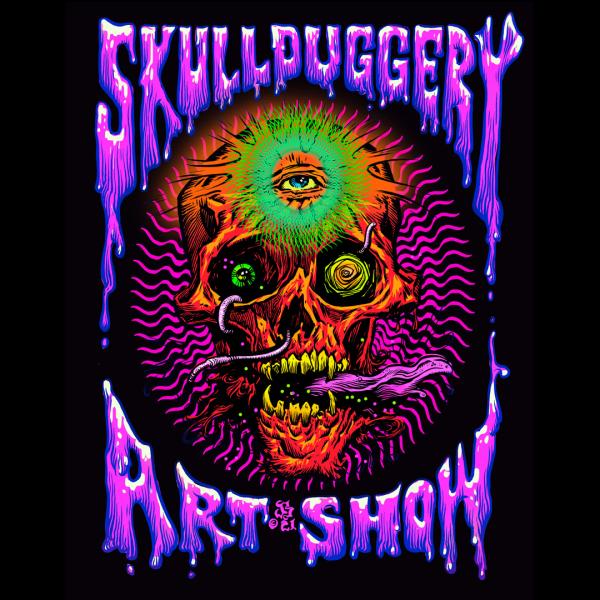 Opening Hours
Tuesday - Friday, 10.00am - 6.00pm
Saturday, 10.00am - 5.00pm
Sunday, 10.00am - 4.00pm
Description
Trick or Treat! It's the 'Skullduggery Art Show'.

From the team behind 'White Cloud Worlds' & 'Industry of Imagination' comes a new Art Show - 'Skullduggery'. This week-long show celebrates Halloween, Horror and the Supernatural.

The show features original paintings, drawings and sculpture from over 40 of the country's top entertainment artists. From high realism to pop surrealism, lowbrow to sculpture.

It's all a treat at the 'Skullduggery' Art Show!

Artwork by Jeremy Bennett.
Artists:
Andy Shaw, Anna Johnson, Anton Gustilo, Anton Becic, Bill Hunt, Blake Wood, Cheryl Ong, Christian Pearce, Claire Tobin, Daniel Ido, Dane Madgwick, EJ Thorpe, Gaboleps, Garry Buckley, Gino Acevedo, Greg Broadmore, Gus Hunter, Hamish Fraser, James Doyle, Jeremy Bennett, Joaquin Loyzaga, Ken Samonte, Matt Katz, Matty Rodgers, McGregor Allen, Malangeo, Nick Keller, Nyssa Skorji, Otis Chamberlain, Paul Tobin, Rebekah Tisch, Ryan S Stark, Sam Beetham, Sam Balzer, Stacey Robson, Stacy Eyles, Steve Lambert, Steven Saunders, Syros Pourlatifi, Tanya Marriott, t.wei, Tom Robinson, Warren Mahy, William Bennett.