End Date
4 September 2022
Artist
Bonnie Chen, Hannah Zhong, Yuri Takemoto & Yumoi Zheng
Main Image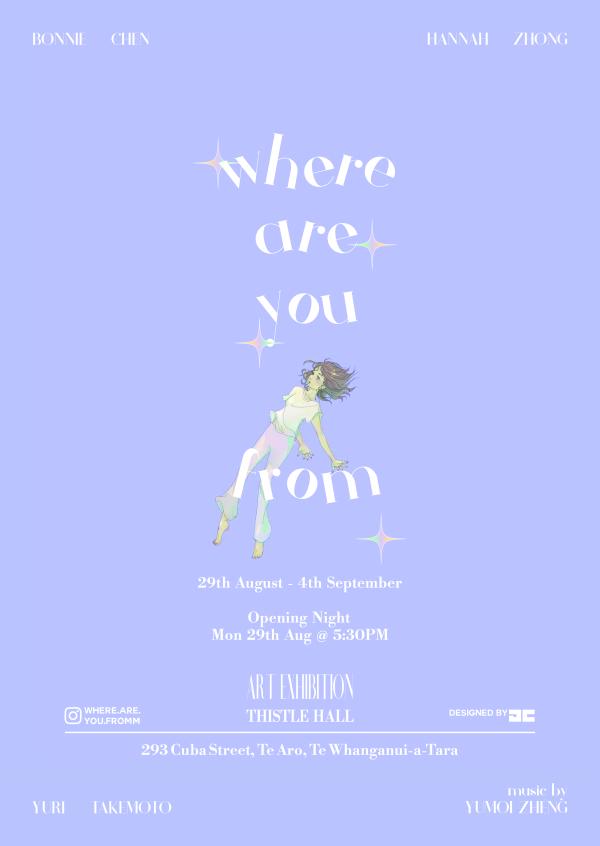 Opening Hours
Monday - Sunday, 11am - 6pm
Description
Through painting, ink illustration and sonic sound the artworks in 'Where Are You From' explore the experiences of the artists' growing up as Asians in Aotearoa. Reflecting on past identity dilemmas, the exhibition encapsulates warm moments and memories to celebrate a sense of home and belonging.
WORKSHOP: Saturday 3rd September (2.00pm - 4.00pm)
We welcome you to join us at the Workshop Day to illustrate and share your own special moments and memories of home!
Special thanks to our wonderful sponsors: Arobake, Fix & Fogg, Garage Project, Parrotdog
Social media handle is @where.are.you.fromm
Hashtag is  #whereareyoufrom 
Poster design by Jay Chan