Artist
Artists' Collective
Main Image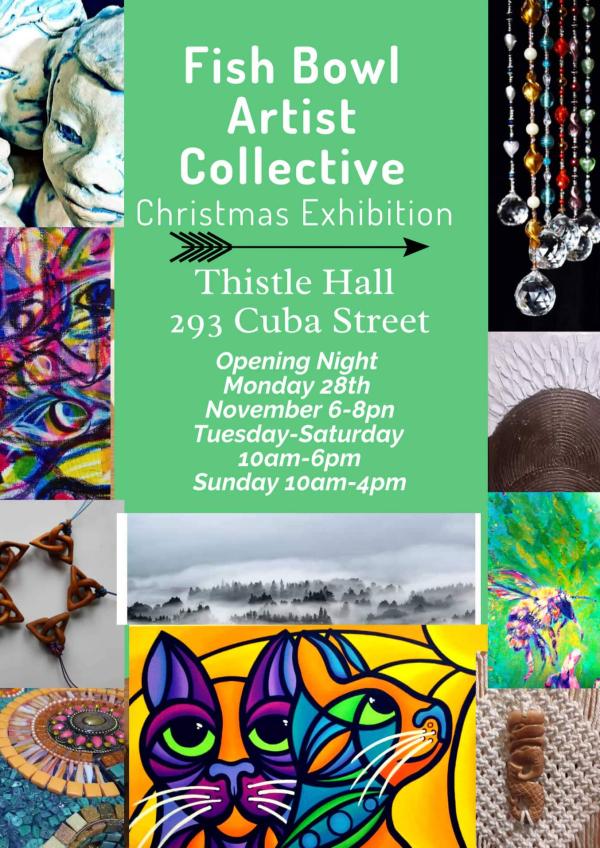 Opening Hours
Tuesday - Saturday, 10am - 6pm
Sunday, 10am - 4pm
Description
You are warmly invited to our Exhibition Opening, from 6pm - 8pm on Monday 28th November.
The exhibiting artists are Anthia Clarke, Brent Higham, Christine Winbush, David Rickard, Evan Davies, Fiona Thomas, Glaes Design, Iris Kauffeld, Karin McCombe Jones, Michaela Miller, Sue Laursen, Ra Gilbert-Loginov & Tangi Kopu.
The Fishbowl Art Collective are a wonderful eclectic mix of over 12 artists, who have been exhibiting together for over 4 years.

The exhibition will be full of of colour, versatility in styles, medium and prices which will delight your senses.

The Fishbowl Art Collective will be exhibiting work in various mediums from bags, ceramics, jewellery, mosaics, painting, photography, prints, sculpture and wood carving and so much more from little to big items.

With Christmas just around the corner it's an ideal chance to buy presents as gifts for others or to simply treat yourself.